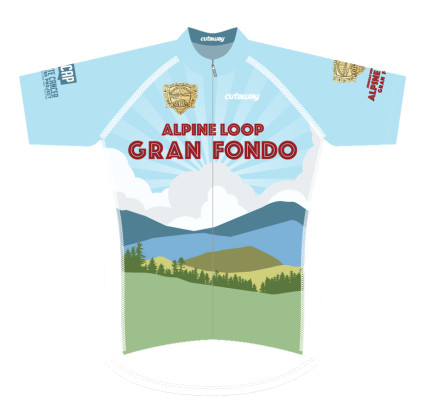 August 11 is the final day on which participants are guaranteed they can order a 2017 custom event jersey in their size. Following that day, a limited number of jerseys will be available for purchase first come, first served.
The 2017 Alpine Loop Gran Fondo jersey is the stunning result of a collaboration between Giant Step Design and Cutaway Clothing. The bold colors and vintage look evoke nostalgia for classic adventures and celebrate the simple thrill of bicycling.
Jersey front and back feature the custom design inspired by the Shenandoah Valley and Allegheny Mountains featured in the Alpine Loop Gran Fondo. Jerseys features three elastic rear pockets, mesh side panels, full zip. Club Cut. See sizing guide prior to purchase.
2017 event jerseys are available for purchase with event registration or as a unique transaction. Jerseys ordered in advance will be ready for pickup at event sign-in.