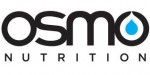 Osmo Nutrition is the Official Hydration Sponsor of the 2014 Alpine Loop Gran Fondo.
Osmo Hydration Stations featuring Osmo Active Hydration products will be located along the Valley View Challenge, Shenandoah Mountain Adventure and Alpine Loop routes to keep all 'Fondo participants properly hydrated for the best ride possible!
Olympic medalists, Tour de France riders, and pro triathletes know hydration is critical to top performance. That's why they've replaced their sponsors' drinks with Dr. Stacy Sims' hydration formulas for years. Osmo Active brings the benefits of Stacy's hydration science to everyone.
Increase Power Output
Improve Endurance
Reduce Cramping
Osmo Active has been developed to maximize the rate of fluid absorption into the body and uses only the highest quality natural ingredients – like organic fruit.
Click here for a complete listing of OSMO Hydration Stations along the routes.
All participants in the Alpine Loop Gran Fondo will receive a special online discount for future orders placed with Osmo Nutrition.