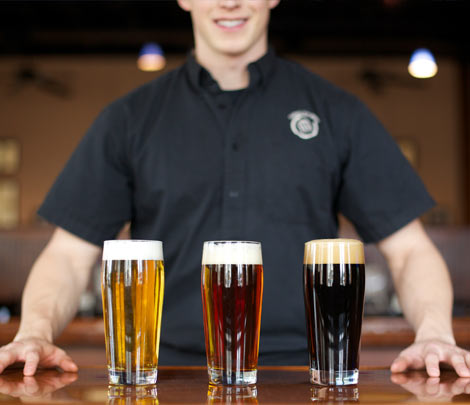 Cycling Capital Celebration Pre-Event Dinner
On the eve of the 2015 Alpine Loop Gran Fondo, the Cycling Capital Celebration will take place Saturday, September 19, in the historic center of downtown Harrisonburg, Virginia at Capital Ale House. Tickets are only available in advance.

The Pre-Event Dinner provides a warm welcome to Harrisonburg, and is a fun place to meet and mingle with other cyclists, celebrate and fuel up for the big ride ahead.
Drop in between 6-8 p.m. and enjoy a dinner that's a filling fuel-up for the next day's big adventure.
Menu includes:
Seared Atlantic Salmon with Rauchbier Sauce
Spice Rubbed Flat Iron Steak with Stout Glaze
Herb-Roasted Half Chicken
Vegetarian Entree upon Request
Gratin Potatoes
Fresh Vegetables
Choice of Soup or Salad
Choice of Five-High Chocolate Cake or Raspberry White Chocolate Cheesecake
Dinner guests are also invited to enjoy a complimentary pint of Brothers Craft Brewing beer and a selection of passed appetizers.
Tickets are available in advance through September 7, 2015. Event is capped and is expected to sell out.