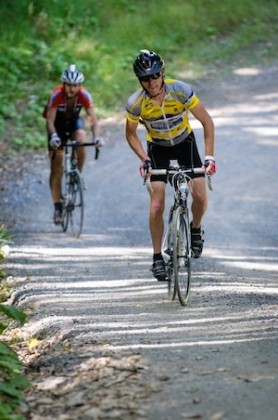 Created in response to the request of participants, this road cycling event will help ready riders for the Alpine Loop and Shenandoah Mountain Adventure routes of the 2013 Alpine Loop Gran Fondo.
The training ride will take place July 28, 2013 beginning at 9 a.m. at Haymarket Bicycles in Haymarket, Virginia.
Registration is open until Thursday, July 23 at midnight.
Jeremiah Bishop will lead the ride with assistance from other Harrisonburg-based professional cycling guides. The ride will be fully supported with cycling-specific ride snacks, sports drinks, sag vehicle, a picnic lunch and training Q&A following.
This training ride is a great opportunity for you to get a feel for some steeps climbs and dirt roads similar to those featured in the 2013 Alpine Loop Gran Fondo. It's timed to provide a great training boost in preparation for the Gran Fondo and your other summer cycling adventures. The location for the ride was chosen for ease-of-access for participants coming from northern and central Virginia and Washington, D.C. and points north – as well as the nature of the route and great training opportunity. In August, we'll bring the action to Shenandoah Mountain and the Alpine Loop itself for a two-day training camp based out of Harrisonburg, Virginia.
The ride will begin at Haymarket Bicycles in Haymarket, Virginia and make its way on country roads and up some great mountain climbs. Riders will divide into two groups which will be based on participants' desired ride length; and ultimate training goals.
Route details, including GPS files, will be e-mailed to all participants.
At the ride's completion, you'll enjoy lunch, relax, and have the opportunity to discuss training and preparation for the Alpine Loop and Shenandoah Mountain Adventure with Jeremiah and other Harrisonburg-based professional cyclists who know the ins and outs of the Alpine Loop.
Lunch and other foods are included. A variety of fresh fruits, veggies, chips, hummus, desserts and drinks will be offered; and we'll have ice-cold New Belgium Brewing beers waiting for you at the ride's end. Participants select entrée from menu on registration page.