2018 Host Hotel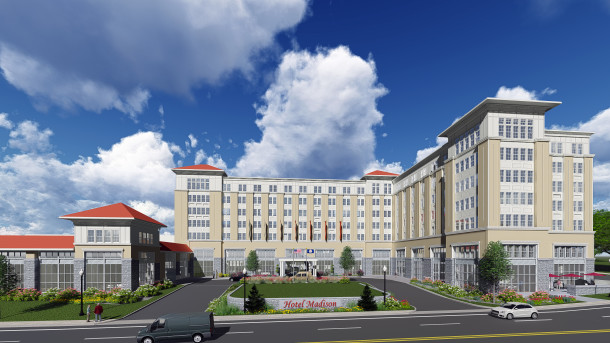 Soon to open in the heart of Harrisonburg, the future Hotel Madison and Shenandoah Valley Conference Center will serve as the host hotel for the 2018 Alpine Loop Gran Fondo.
Gran Fondo participants will be invited to take advantage of very special pricing being offered by Hotel Madison just for the occasion: 
Deluxe Double Queen Rooms: $159/night Friday/Saturday, $118 Sunday
Deluxe King Rooms: $169/night Friday/Saturday, $128 Sunday
(The rates offered to Alpine Loop Gran Fondo guests are reduced from regular the $229/night average fall weekend rate.)
Guests can book directly by following this link, using the Group Code SALGF18928, or calling the hotel and mentioning the Alpine Loop Gran Fondo group name. Guests who will stay beyond the dates of September 29 – October 1 are encouraged to call to book directly.
Hotel Madison will feature a blend a sophisticated style and relaxing comfort. Featuring rooms with mountain and downtown views, a farm-to-table restaurant, and a location that can't be beat, Hotel Madison will be the perfect lodging selection for those coming to Harrisonburg to enjoy the Alpine Loop Gran Fondo. The hotel will offer an upscale experience, rustic elegance, and the convenience to access the Alpine Loop Gran Fondo like never before – including some special event activities that will be hosted within the hotel's adjacent conference center ballroom.
Alpine Loop Gran Fondo event director Erin Bishop says she has looked forward to the partnership with Hotel Madison for many years. "Having an upscale hotel, which can accommodate a large number of our event participants as guests, right here in the heart of Harrisonburg is going to add to the authenticity and experience of the Gran Fondo for those who are traveling to the area for the adventure," she says. "The event is an extension of our family and what we love; we invite people here to share in the Gran Fondo and to get a taste of what Harrisonburg and our cycling community are really like."
From Hotel Madison, Bishop says "cyclists will be able to roll right out of the front doors and onto Main Street just a couple of blocks away from the Gran Fondo's start/finish venue. I think Hotel Madison will be especially loved by our participants' family members and other guests," she adds. "Our family often travels to cycling events, and it is always delightful to stay in location that is both comfortable and conveniently located. Hotel Madison is just a stroll away from the event, and this year I think we will see an increase in the number of families who choose to make a weekend adventure out of the Gran Fondo," she says. "It's great to be able to make these meaningful connections to our community."
The 2018 Alpine Loop Gran Fondo is September 30. For more information, visit www.AlpineLoopGranFondo.com