Experience the Valley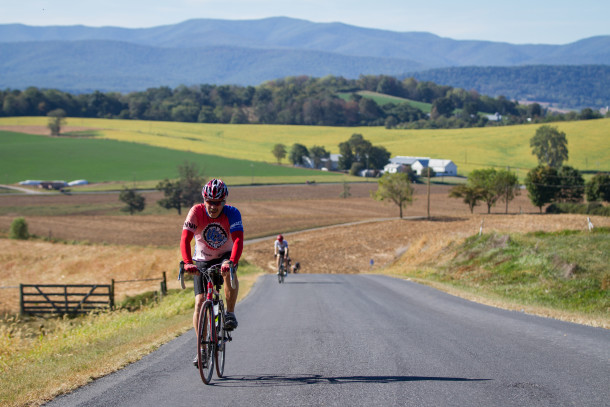 Returning as classic routes for the 2018 Alpine Loop Gran Fondo, there are two ways to experience the renowned riding of the central Shenandoah Valley: The Valley View Challenge and Mt Solon Metric Century! These routes offer an experience for cyclists of all abilities.
The Valley View Challenge is a 36-mile route that showcases the idyllic scenery and country roads that make Harrisonburg and Rockingham County, Virginia famed riding destinations. The route is almost entirely paved; we've thrown in a few brief connectors on little dirt roads, over low-water bridges and up country lanes – and they make the experience one to remember! Don't let the "Valley" fool you; this route offers a great challenge with over 2,600 feet of rolling climbs and a steep jaunt up Mole Hill.
The Mt Solon Metric Century offers 100 kilometers (62.4 miles) of Shenandoah Valley riding, including beautiful country lanes and nearly-secret riverside roads beyond Mt Solon. This route rolls through 3,743 feet of climbing.
The final miles of the Valley View Challenge and the Mt Solon Metric Century wind through the farming communities of Ottobine and Dayton, Virginia where horse-pulled carriages are frequent sights along the country lanes.
Route maps and profiles are available on the Route Page.