Climb Shenandoah Mountain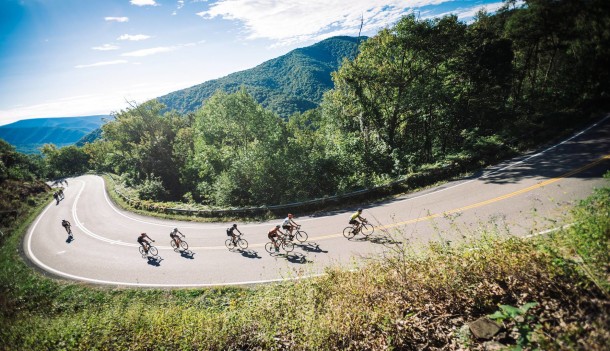 For the 2018 Alpine Loop Gran Fondo, there are two ways to experience the challenge of Shenandoah Mountain without having to take on the dirt road climbs of the Alpine Loop: the Shenandoah Mountain Adventure and the Shenandoah Mountain Century.
The Shenandoah Mountain Adventure offers an amazing challenge of 77 miles with over 6,500 feet of climbing on some of the most ideal mountain roads around! Following the same mountain climbs with additional miles, the Shenandoah Mountain Century serves up 100+ miles with 7,800 feet of climbing. Introduced in the 2015, the Shenandoah Mountain Century proved to be an instant favorite, and a course that will be included in the event for years to come.
Both routes include two (optional) timed KOM sections: one on Virginia Route 33 up the eastern side of Shenandoah Mountain and the other on the feisty .5-mile Mole Hill climb about 5 miles before the finish line. Riders love the wide-open winding road leading into West Virginia. Once there, you'll enjoy a few miles meandering alongside the headwaters of the Potomac River. The routes' hidden gem: a serpentine climb up the western side of Shenandoah Mountain on the newly-paved Moyers Gap Road; a treat you'll only get to enjoy if you're in for the Shenandoah Mountain Adventure or Shenandoah Mountain Century!
Once you rise to the challenge of the final climb, hang on tight for your return to the Valley! Adventure riders will take the direct return to the Finish Line, while Century riders will continue on a scenic loop with rolling riverside miles along the base of the mountain.
The final miles of these routes roll through the countryside and farming communities of Ottobine and Dayton, where horse-pulled carriages are frequent sights along the country lanes.
Register before field limits are reached.
Route maps and profiles are available on the Route Page.