2016 Jersey Special Opportunity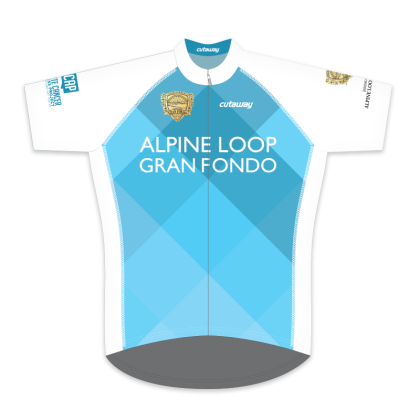 By popular request, the sold-out 2016 Alpine Loop Gran Fondo jersey is now available for re-order. By completing a purchase, you are guaranteeing a 2016 event jersey will be produced espeically for you. Orders will be accepted until Friday, October 14, at 5 p.m. From that time, production is estimated at 6 weeks. Costs included shipping.
The 2016 Alpine Loop Gran Fondo poster that was displayed at the Cycling Celebration and Finish Line Festival was very popular among participants. By request, it is being offered in standard poster size prints of 24″ x 36″, which will arrive rolled and ready for framing (not included). Prints will be produced Monday, October 17 and shipped via USPS within two business days. Cost includes shipping.
Alpine Tankards and Alpine Farmhouse Mugs are handmade in the USA and feature the crest of the Alpine Loop Gran Fondo. These pottery items will be shipped within two business days of receipt of your purchase. Costs included shipping.
To purchase custom designed Loopie prints, visit the special Alpine Loop Gran Fondo Loopie page; and you can learn more about custom framing options being offered by The Frame Factory and Gallery.